HOME
ABOUT
NEWSROOM
CONTACT
Illinois Businesses Hit with $1 Billion Backdoor Tax Hike in Pritzker's Proposed FY22 Budget
With the Senate and House of Representatives not in session last week, Gov. JB Pritzker gave a combined State of the State and Budget Address on Wednesday over a virtual platform. The budget address marks the starting point of the General Assembly's budget discussions for the next fiscal year. Considering the incredible challenges this State faces, the partisan tone the Governor provided in his speech was a surprise. Still, I look forward to upcoming budget discussions in the Senate. The proposal calls for $41.6 billion in spending which exceeds currently projected revenues by $1.7 billion. In order to fund his spending plan, Governor Pritzker recommended: Diverting $100 million in Cigarette Tax revenue earmarked for transportation improvements to the General Revenue Fund (GFR) Holding back 10% of the Local Government Distributive Funds (LGDF) that are generated at the local level and are used for delivery of core local services in our communities such as policing, fire protection and public works. Holding back 10% of the sales taxes that are earmarked for downstate transit A one-year delay in the shift of sales tax on gas from the GRF to the Illinois Road Fund A $100 million increased Road Fund diversion to cover Sales Tax revenue sharing with transit agencies Additionally, the business community would take an almost $1 billion hit if Gov. Pritzker's revenue plan is approved. The Governor's recommendations that would adversely impact business include: Eliminating or rolling back several business tax credits that help businesses grow jobs and build the economy Eliminating the Blue Collar Jobs Act, which incentivizes large construction projects and puts skilled construction workers to work Reinstating the corporate franchise tax Accelerating the expiration of exemptions for using biodiesel Rolling back Manufacturing Machinery and Equipment (MME) sales tax exemptions for certain equipment purchases Governor Pritzker also wants to roll back a tax credit scholarship that provides funds for underprivileged children to attend private schools if their community public school is failing them. Higher Education would receive a $48 million increase in spending in FY22 while K-12 Education funding would remain flat. Medicaid funding would be reduced by $638 million in the Pritzker plan. With the budget blueprint in hand, Senate and House appropriations committees will get to work on crafting a budget that will be voted on by lawmakers and sent to the Governor for his signature. While the Governor's proposal is a starting point for our work, the General Assembly is not obligated to use it as we craft budget bills.

Senate and House Republicans on JCAR Stand United Against Controversial ISBE Rule
I am one of three Senate Republicans who serve on the state's Joint Committee on Administrative Rules (JCAR). On Wednesday morning, JCAR heard a controversial rule promulgated by the Illinois State Board of Education (ISBE) for "Culturally Responsive Teaching and Leading Standards." Click here to learn more about the rule. Unlike legislation that comes before the entire General Assembly for consideration, JCAR hears rules brought forward by agencies from the Governor's administration. JCAR includes six Republicans and six Democrats, split equally between the Senate and the House. Eight of the Committee's 12 votes are required to block a rule's implementation. Those who favor the ISBE rule believe it will allow teachers to better respond to the diverse make-up of their classrooms. Those who oppose it feel the new rule would stifle healthy debate and the fostering of independent critical thinking skills, and would encourage teachers to steer teaching and learning toward specific political ideologies. Following the JCAR vote I issued an official statement. You can read it here.

Senator Curran Delivers Valentines to Seniors in 41st District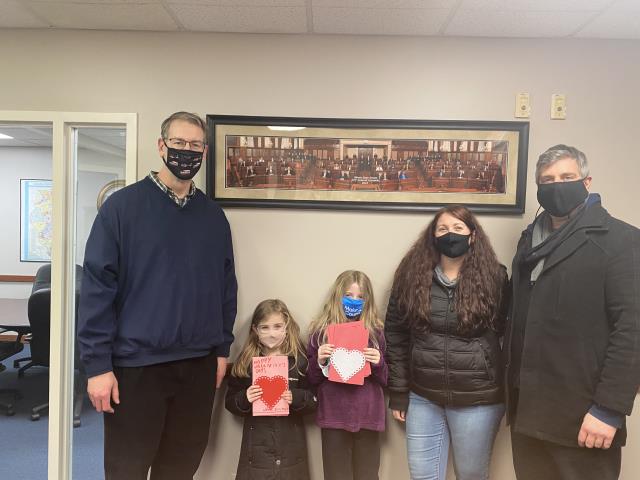 In the days leading up to Valentine's Day, I joined my Senate Republican colleagues in delivering more than 45,000 Valentines and well-wishes to senior citizens living in assisted-living facilities and nursing homes across the state. Students from public and private schools, church groups, scouting organizations, students in park district programs, National Honor Societies and other groups joined Illinois families in creating homemade cards. It was a tremendous outpouring of support for senior citizens who have been largely isolated for close to a year now during the COVID-19 pandemic. Specifically, in the 41st District, my office collected and delivered more than 900 Valentines. The success of this outreach event exceeded every expectation, and seniors who received the well-wishes were all smiles as the cards were distributed. Thank you to everyone who participated in this project.

DuPage County Joins Cook County in Delaying Phase 1b Part II Vaccinations
Last week we learned that the weekly allotment of COVID-19 vaccines that will be sent to DuPage County over the next few weeks will be significantly reduced. Officials from the DuPage County Health Department (DCHD), which had been receiving and administering an average of 14,000 vaccinations each week, were told to expect only 2,450 "first dose" vaccines for the next three weeks. According to the DCHD, the reduced allocation of first dose vaccines means that vaccine clinics will be focusing on delivering second doses, with very few appointments available for new first dose residents. It is expected that the vaccine supply will increase substantially after these next three weeks, so that widespread first dose appointments can resume in early to mid-march. Click here to read the full DuPage County Health Department press release on the issue.

Affordable Care Act Marketplace Reopens for Special Enrollment Period
The Affordable Care Act (ACA) Health Insurance Marketplace is having a Special Enrollment Period (SEP) through May 15, 2021. The SEP is in response to COVID-19, and allows individuals and families to apply and enroll in 2021 health insurance coverage. Unlike other SEPs, the SEP in Response to COVID-19 does not require proof of a qualifying life event, such as losing a job. This SEP is available to all eligible Illinoisans who don't currently have health insurance coverage or want to change to a new health plan. Learn more through this FAQ sheet.